The 2017 Chairmans Cup was once again hosted by Kilworth Springs.  Our thanks go to them for their continued support.
This year the winner was Andy Sellars guided by Martyn Wright and second was John Eakin guided by his brother Kevin.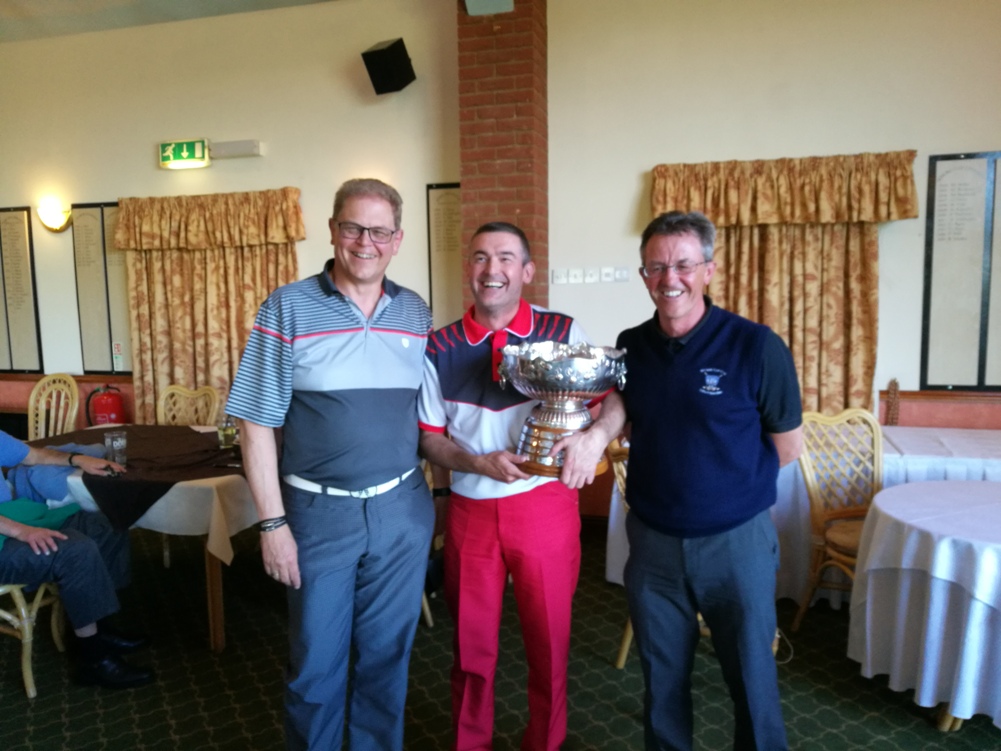 A few words from Andy Sellars
"What a Great Day at the Chairman's Cup"
A Really enjoyable round of golf in great company for Martyn and I with Andy & Melanie Guilford and Nick Mills and Paul. We all had a great time with the course in very good conditions and greens running true ( but a little slow) and the weather holding up. Special mention to Andy and Mel for what was a superb demonstration in accuracy and distance off the Tee and I think its fair to say our games fed off each other in pushing for low scores with an amazing better ball score between us of 17 under par for 18 holes!!
A real pleasure to be a part of and delighted to win the Chairman's Cup for the first time so many great past winners on there
Well done to all who took part and thanks to Ron and Steph for organising and the the catering staff for good food"
Cheers
Andy Sellars
| Player | Cat | H/C | S'ford |
| --- | --- | --- | --- |
| Sellars Andy | B2 | 24 | 44 |
| Eakin John | B3 | 11 | 42 |
| Gilford Andy | B2 | 20 | 40 |
| Hill Euin | B2 | 42 | 39 |
| Evans Chris | B3 | 20 | 37 |
| Field Derek | B3 | 45 | 36 |
| Heathfield Jason | B3 | 22 | 36 |
| Le Roux Pieta | B2 | 13 | 36 |
| Sturdy Mark | B2 | 45 | 35 |
| Ritchie Barry | B1 | 51 | 32 |
| Rees David | B3 | 36 | 32 |
| Beevers Steve | B3 | 18 | 32 |
| Daniels Danny | B2 | 36 | 28 |
| Bastable Jason | B3 | 22 | 23 |
| Goodger Brian | B2 | 45 | 22 |
| Killeen Mat | B2 | 45 | 21 |
| Hill Nathan | B1 | 54 | 21 |
| Tomlinson Ron | B1 | 54 | 20 |
| Sheridan Derrick | B2 | 45 | 17 |
| Richards Bryan | B2 | 45 | 17 |
| Cole Roger | B2 | 45 | 15 |
| Clayton Adam | B1 | 54 | 14 |
| Atkin Danny | B1 | 54 | 8 |
| Davies Helen | B3 | 34 | 8 |
| Sharples Roy | B1 | 54 | 6 |
| Mills Nick | B1 | 54 | 2 |
| O'Brien Jim | B1 | 54 | NR |