Welcome to the England & Wales Blind Golf Website
We have worked on this website with the aim of making it accessible and useful to both the visually impaired and sighted community, The aim with this site is to inform the sighted community of what Blind Golf is all about and how to get involved, whilst also being a hub for the visually impaired that are either involved already or want to get involved.
Using the 4 simple buttons above you can access the About page, the Supporters page, the Players page and the contact page. The about page and contact pages are self explanatory, while the supporters page is where to go if you are looking to get involved, either by donating or offering your time to help with the organisation and the players page is where you need to be if you currently are playing or want to play, there are pages more relevant to you here such as fixtures & results.
At the bottom of the page there is also a master menu, containing links to every page on the site if you would prefer to use that option.
England and Wales Blind golf is a Registered Charity in the UK (Registered Charity Number 1064829)
Cleveland Golf Blind Challenge
Cleveland Golf set out to challenge 3 tour pro's at a game of Target Practice, but this was no ordinary test of skill, they were up against 3 of the England & Wales Blind Golf's best and to make it more even, the Tour Pro's were blind folded.
Chloe Allyn presents the challenge in the below video with Danish Pro Soren Kjeldsen, Irish Pro Shane Lowry and New Zealander Ryan Fox taking on Andy, James and Barry.
(Please note: There is limited commentary on the below video with some sections having none)
Support England & Wales Blind Golf
As a registered charity it is important that we work closely with the local communities and organisations throughout the year to raise the profile of the sport along with helping to raise the vital funding needed to keep the charity active.
If you feel you have something to offer the charity, whether that is volunteering your time or donating as much or as little as possible to keep the organisation thriving, then please contact us.
You can also donate online using our BT Mydonate page via the button below: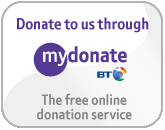 How is it played?
Instagram Feed
Below is our Instagram Feed, you can select an image to open it fully in Instagram.
If you are using a screen reader you will be able to hear the captions attached to the images being read out, we will work on making the captions more descriptive for future images.